Steam account & Internet connection required to activate game.

Please Note: You must have a full copy of Just Cause™ 3 [PC DOWNLOAD] to use the Just Cause™ 3 DLC: Sky Fortress Pack [DLC]

Just Cause 3: Sky Fortress is the first PDLC pack from the Air, Land & Sea Expansion pass. Become the master of the skies with Rico's all new and fully armed, Bavarium Wingsuit. Save Medici from the threat of the terrifying Sky Fortress and its army of deadly robotic drones.
This content pack includes new missions, challenges, the ""Bavarium Splitter"" assault rifle and the ""Evictor"" personal defence drone, all of which can be carried over into the main game.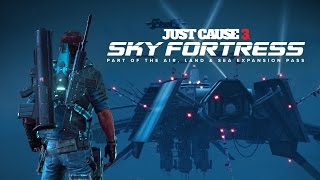 •Explore a Mediterranean island paradise with complete vertical freedom – skydive, BASE jump and free dive in an open world with virtually zero limits• Glide through the air and swoop across mountains with your Wingsuit giving a new way to rain death from above• Use your Grapple and Parachute to scale buildings, hijack vehicles, move quickly or tether objects together for creative new ways to cause Chaos. • Cause massive chains of destruction in military bases, harbours, prisons, police stations and communications facilities to bring down a dictator• Arm yourself with a wide range of explosive weaponry from shotguns and missile launchers to tank-busters and air-strikes• Choose from a huge variety of different vehicles to drive including speedboats, jets, helicopters, turbo-fuelled sports cars and super bikes• Get adventurous with dozens of challenge missions and collectibles to discover• Online community features
Explore a Mediterranean island paradise with complete vertical freedom – skydive, BASE jump and free dive in an open world with virtually zero limits
Glide through the air and swoop across mountains with your Wingsuit giving a new way to rain death from above
Use your Grapple and Parachute to scale buildings, hijack vehicles, move quickly or tether objects together for creative new ways to cause Chaos.
Cause massive chains of destruction in military bases, harbours, prisons, police stations and communications facilities to bring down a dictator
Arm yourself with a wide range of explosive weaponry from shotguns and missile launchers to tank-busters and air-strikes
Choose from a huge variety of different vehicles to drive including speedboats, jets, helicopters, turbo-fuelled sports cars and super bikes
Get adventurous with dozens of challenge missions and collectibles to discover
Online community features
Steam account & Internet connection required to activate game.

Minimum Specs
OS: Vista SP2 / Windows 7 SP1 / Windows 8.1 (64-bit OS required)
Processor: Intel Core i5-2500k, 3.3GHz / AMD Phenom II X6 1075T 3GHz
Memory: 8GB RAM
Hard Disk Space: 54GB
Video: NVIDIA GeForce GTX 670 (2GB) / AMD Radeon HD 7870 (2GB)

Recommended Specs
OS: Vista SP2 / Windows 7 SP1 / Windows 8.1 (64-bit OS required)
Processor: Intel Core i7-3770, 3.4 GHz / AMD FX-8350, 4.0 GHz
Memory: 8GB RAM
Hard Disk Space: 54GB
Video: NVIDIA GeForce GTX 780 (3GB) / AMD R9 290 (4GB)