SQUARE ENIX is proud to present the very first official FINAL FANTASY® wind-instrument arrangement album, entitled,
BRA★BRA FINAL FANTASY®: Brass de Bravo!
*Please note that this is a Japanese import soundtrack disc.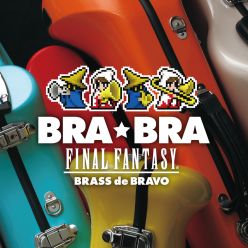 Headed by Nobuo Uematsu, the father of FINAL FANTASY® music, and performed by the Siena Wind Orchestra based in Japan, this arrangement album takes the beloved songs of the series and turns them into full concert band pieces. The disc includes new renditions of many popular series songs, including the "FINAL FANTASY® Main Theme", "To Zanarkand", "Moogle's Theme", and an all-new "Airship Medley".
Product Details:
Disc Specs: 1 x CD
Number of Tracks: 11
Executive Producer: Nobuo Uematsu
Performed By: Siena Wind Orchestra