FINAL FANTASY® X / X2 HD REMASTER STANDARD EDITION [PS Vita]
Available as a 2-in-1 retail pack, the PlayStation®Vita system version of the game will include FINAL FANTASY® X HD Remaster on the game card and FINAL FANTASY® X-2 HD Remaster as a downloadable PlayStation®Network voucher.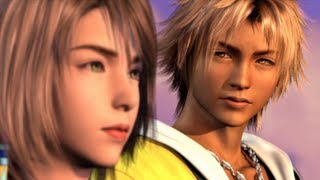 FINAL FANTASY® X/X-2 HD Remaster celebrates two of the most cherished and beloved entries to the world-renowned franchise, now completely remastered in gorgeous High Definition! FINAL FANTASY® X tells the story of Tidus, a star blitzball player who journeys with a young and beautiful summoner named Yuna on her quest to save the world of Spira from an endless cycle of destruction wrought by the colossal menace known as 'Sin'. FINAL FANTASY® X-2 returns to the world of Spira where High Summoner Yuna travels with her companions Rikku and Paine to unravel the mysteries of the messages hidden in the spheres she hunts, not knowing that the answers she seeks may change everything. Based on the International Versions of the games that were previously only released in Japan and Europe, FINAL FANTASY® X/X-2 HD Remaster brings these timeless classics forward to the current generation of fans, old and new alike.
FINAL FANTASY® X-2 available as download only. Single Use Voucher Included. 3.5GB Memory Space and Internet Connection Required.