Get 25 Members Rewards
When you buy this product
FINAL FANTASY VII REMAKE INTERGRADE includes a wealth of graphical, gameplay and system enhancements:
Immerse yourself in the city of Midgar like never before, with improved textures, lighting, and background environments
Players can switch between two game modes:

"Graphics Mode" prioritizes 4K high-resolution graphics
"Performance Mode" prioritizes smooth action at 60 frames per second

Capture and share your memorable moments from the game with a fully customizable "Photo Mode"
Players can enjoy immersive battles by using the DualSense PlayStation 5 controller with its haptic feedback integration.
The new episode featuring Yuffie is a brand-new adventure in the world of FINAL FANTASY VII REMAKE INTERGRADE. Play as Wutai ninja Yuffie Kisaragi as she infiltrates Midgar and conspires with Avalanche HQ to steal the ultimate materia from the Shinra Electric Power Company.
Play alongside new characters and enjoy an expanded gameplay experience featuring multiple new combat and gameplay additions. This adventure brings new perspective to the FINAL FANTASY VII REMAKE story that cannot be missed.
*New episode featuring Yuffie, included in the box as downloadable content voucher code (internet connection required to download content)
Release Date: June 10th, 2021
Please note the specific payment collection timeline for pre-orders (dates may be subject to change based on possible changes to release date):

1st Payment Collection Attempt – 05/28/2021
2nd Payment Collection Attempt (if necessary) – 05/31/2021
3rd Payment Collection Attempt (if necessary) – 06/02/2021
On or near release date delivery.  
While will do our utmost best attempt to deliver the product by the release day, please be aware that the SQUARE ENIX Store does not have any control on when the shipping provider will deliver the shipment.
Pre-orders received after 5/27/2021 may arrive after the release day
International Pre-order delivery by Street Date Not Guaranteed

We do our absolute best to ship pre-orders so they arrive by the official street date (date listed on the product details page), but international orders cannot be guaranteed. Shipments could take up to 5 weeks to arrive depending on courier, location, and customs clearance in your country.
© 1997, 2021 SQUARE ENIX CO., LTD. All Rights Reserved.
CHARACTER DESIGN: TETSUYA NOMURA / ROBERTO FERRARI
LOGO ILLUSTRATION: © 1997 YOSHITAKA AMANO
FINAL FANTASY, FINAL FANTASY VII REMAKE, SQUARE ENIX and the SQUARE ENIX logo are registered trademarks or trademarks of Square Enix Holdings Co., Ltd.
STORY
Mako ─ the lifeblood of the planet and the fuel that powers the city of Midgar...
By exploiting this resource through their Mako Reactors, the Shinra Electric Power Company has all but seized control of the entire world. A ragtag group of idealists, known as Avalanche, are one of the last bastions of resistance.
Cloud, an elite SOLDIER operative turned mercenary, takes part in an Avalanche operation to destroy Mako Reactor 1 in the city of Midgar.
The bombing plunges the city into fiery chaos, and amidst the raging inferno, Cloud is tormented by visions of a bitter enemy long thought dead.
After this hallucination fades, he meets a young woman selling flowers, who offers him a single yellow blossom.
In that instant, a host of swirling shadows surround them.
Once more begins a story that will shape the destiny of an entire world.
CHARACTERS
Cloud Strife
An ex-SOLDIER: first class, Cloud came to Midgar to start a new chapter of his life as a mercenary. At the invitation of his childhood friend, Tifa, he accepted a job with Avalanche. He may bring his buster sword to bear against Shinra troopers, but he does not care for plight of the planet. For him, this is a job and nothing more.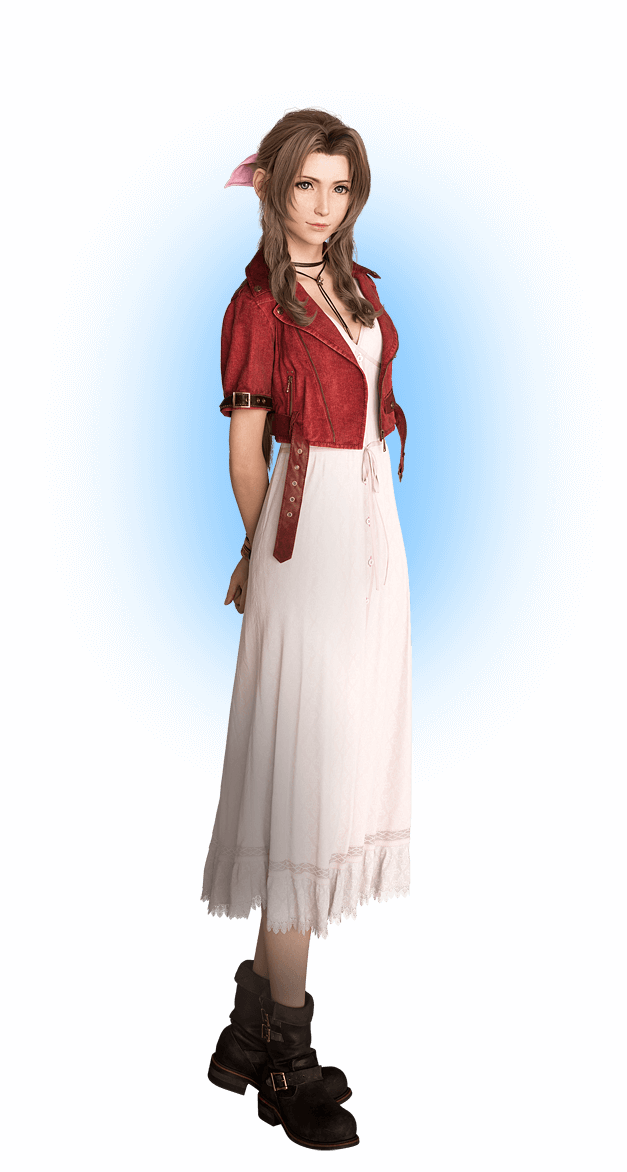 Aerith Gainsborough
Aerith is a flower seller who lives in the Sector 5 slums, who first meets Cloud on the streets of Midgar after the bombing of Mako Reactor 1. Shinra has kept a close eye on her ever since she was a child, as she has the ability to hear the voice of the planet. She is often found tending a modest bed of flowers at an old church in Sector 5.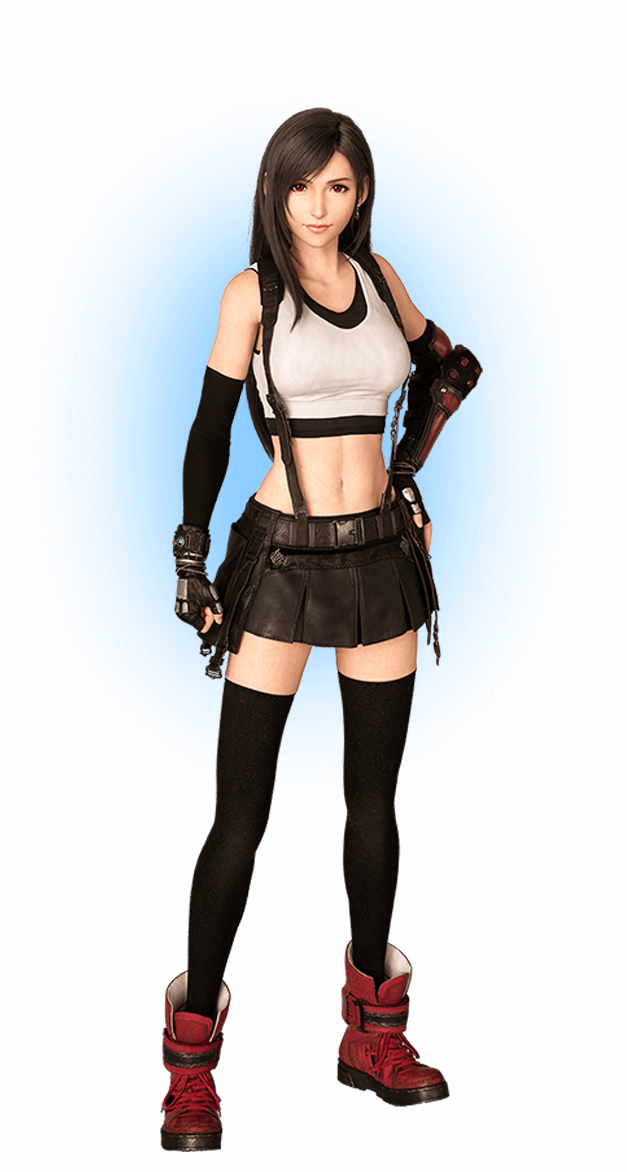 Tifa Lockhart
A loyal member of Avalanche ─ an underground organization opposed to Shinra ─ Tifa also runs Seventh Heaven, a popular bar in the Sector 7 slums. Although she bears a terrible grudge towards Shinra, she is not convinced that bombing mako reactors is the solution. As she struggled to reconcile her cause with her conscience, Tifa was reunited with her childhood friend, Cloud, for the first time in years...
Barret Wallace
The leader of an independent Avalanche cell in Midgar, Barret was disavowed by the old guard for his extreme methods that attracted too much attention. He subsequently came to Midgar, where he resolved to continue to pursue his vendetta against Shinra with a small but trusted group of followers. When not fighting against the corporation, he and his comrades serve in the neighborhood watch and keep the people safe ─ including his daughter Marlene, who he dotes on as a loving father.
Platform
PlayStation 5
Developer
SQUARE ENIX
Genre
Action RPG
SKU
92486