FINAL FANTASY VII Makie Metallic Decoration Stickers: Cloud Strife
FINAL FANTASY VII Makie Metallic Decoration Stickers: Cloud Strife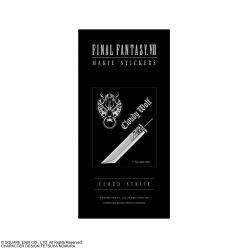 Makie
is a traditional Japanese technique made by using metallic leaf, these Final Fantasy VII Stickers feature an amazing silver sheen from the Aluminum used.
The available classic emblems from
Cloud
,
Sephiroth
and the
Shinra Company
can be used to add that little extra to everything from plastic, metal, glass and ceramic items.
They're great on phones, consoles and laptops. It's easy to show your fandom with these strong and unique
Makie Stickers!
This exquisite piece brings you a little closer to your favorite
FINAL FANTASY VII REMAKE
characters! 
Item Size: 
H 2.9" x W 2.4" (H 74mm x W 60mm)
Material: 
Aluminum powder, epoxy resin
Release Date:
January 2020
© SQUARE ENIX CO., LTD. All Rights Reserved.  
CHARACTER DESIGN:TETSUYA NOMURA
LOGO ILLUSTRATION:©1997 YOSHITAKA AMANO