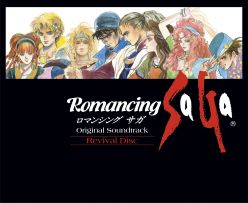 We are happy to present this audio visual soundtrack from Romancing SaGa, the origin of the series!

With the Japanese release of the mobile title, Romancing SaGa Re;univerSe,  and the release announcement for the remake version of Romancing SaGa™ 3,  the Romancing SaGa series is still popular as ever. 
This soundtrack brings you the sounds and visuals from the original Super Famicon version of Romancing SaGa, the origin of the series. Fans can relive the original gameplay visuals and sounds from the initial 1992 release on this "revival" format. Don't miss out on SaGa series composer Kenji Ito's battle music, which is considered to be the root of his work. 
Romancing SaGa music (with gameplay visuals) + MP3 audio files for each track
Release Date: December 2019
* Please note that this is a Japanese import soundtrack Blu-Ray disc.
* Shipment may take longer if the parcel contains an import product and faces delays due to customs and duties.
* Also, please be aware of potential release date changes which shall be announced on the website.
* This is NOT a CD and requires a Blu-Ray disc player.
■ The "Revival Series" brings back memories, making you want to play the games again!

In line with the concept of "bringing back to life the adventures from back in those days," this "revival" soundtrack series brings you the original music and gameplay visuals from the original releases of the SaGa games.
In this new edition, we've included different hand picked scenes from the entire storyline that integrate well with each of the tracks. Of course, we've included classic selections that will make you say, "Exactly! No other dialogue reminds me more of this music!" as well as various scenes that will make you want to pick up the controller once again.

■MP3 Audio files included!

MP3 audio files are included in the Blu-ray disc soundtracks released by SQUARE ENIX MUSIC.
By using PCs with a Blu-ray disc drive or by using download functions when playing the disc in a home network environment, you will be able to download the audio files to your PC, smartphones, or portable audio devices for you to carry around. You now have various options to enjoy music that accommodate to your lifestyle and living environment!