Get 180 Members Rewards
When you buy this product
Included in the FINAL FANTASY® VII REMAKE 1ST CLASS EDITION, is protagonist Cloud and the Hardy Daytona as PLAY ARTS KAI action figures! This limited-quantity, large-format action figure set is the only way you can get both Cloud and the Hardy-Daytona together.
From Cloud's stoic facial expression to his hairstyle, the details on all of the accessories adorning his outfit are meticulously sculpted and painted for an unmatched level of quality. The Hardy Daytona is portrayed realistically, from its unique form and sleek lines to the quad exhaust pipes and bifurcated rubber back wheel. Cloud can fit in any action pose seen in-game on or off the motorcycle with the included hands and unparalleled PLAY ARTS KAI articulation!
Figure includes display stand, interchangeable hand parts.
1st Class Edition Includes:
FINAL FANTASY VII REMAKE game
Play Arts Kai Cloud Strife & Hardy Daytona
Art Book
Mini-Soundtrack
Steelbook
Cactuar Summon Materia DLC
Carbuncle Summon Materia DLC
Produce size and weight:
Cloud W96 × D48 × H267mm (expected), weight: approx. 400g (expected)
Daytona W156 × D427 × H175mm (expected), weight: approx. 1500g (expected)
Release Date:
April 10th, 2020
IMPORTANT:
Products with a broken seal/sticker may not be returned unless there is a defect with the product.
Please note that you use the shipment services at your own risk. Signature Confirmation is recommended. The Square Enix Online Store is not responsible for lost or stolen packages.
On or near release date delivery. While we try our best to schedule the delivery to arrive on the release date, actual delivery dates may vary depending on your location and shipping method.
Orders received after March 20, 2020 11:59pm PST will arrive after the release day.
Limit 3 per customer.  If by chance a customer has pre-ordered more than 3 units, we reserve the right to cancel each additional unit in fairness to all our customers.
Please note, this is a soft bundle.  The FINAL FANTASY VII REMAKE Deluxe Edition contents are bundled separately from the Play Arts Kai Cloud Strife & Hardy Daytona.
© 1997, 2019 SQUARE ENIX CO., LTD. All Rights Reserved.
CHARACTER DESIGN: TETSUYA NOMURA / ROBERTO FERRARI
LOGO ILLUSTRATION: © 1997 YOSHITAKA AMANO
FINAL FANTASY, FINAL FANTASY VII REMAKE, SQUARE ENIX and the SQUARE ENIX logo are registered trademarks or trademarks of Square Enix Holdings Co., Ltd.
SWEEPSTAKES IS OVER! Winners will be contacted shortly. Thank you for those who participated!
Pre-order any version of FINAL FANTASY VII REMAKE on the SQUARE ENIX Store for your chance at winning a Sephiroth or Cloud Strife Chronograph watch!*

If you've already pre-ordered any edition of the FINAL FANTASY VII Remake from the SQUARE ENIX Store, you may be automatically entered in this sweepstakes!

*RESTRICTIONS APPLY. PLEASE SEE OFFICIAL RULES FOR FULL TERMS AND CONDITIONS
HERE: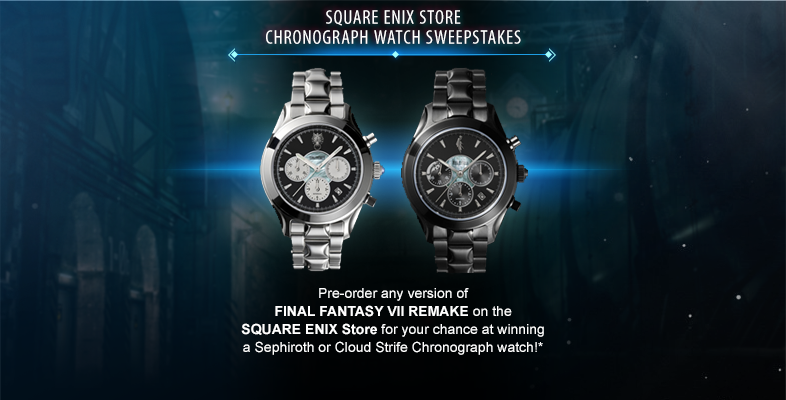 STORY
Mako─the lifeblood of the planet and the fuel that powers the city of Midgar...
By exploiting this resource through their Mako Reactors, the Shinra Electric Power Company has all but seized control of the entire world. A ragtag group of idealists, known as Avalanche, are one of the last bastions of resistance.
Cloud, an elite SOLDIER operative turned mercenary, takes part in an Avalanche operation to destroy Mako Reactor 1 in the city of Midgar.
The bombing plunges the city into fiery chaos, and amidst the raging inferno, Cloud is tormented by visions of a bitter enemy long thought dead.
After this hallucination fades, he meets a young woman selling flowers, who offers him a single yellow blossom.
In that instant, a host of swirling shadows surround them.
Once more begins a story that will shape the destiny of an entire world.
CHARACTERS
An ex-SOLDIER: first class, Cloud came to Midgar to start a new chapter of his life as a mercenary. At the invitation of his childhood friend, Tifa, he accepted a job with Avalanche. He may bring his buster sword to bear against Shinra troopers, but he does not care for plight of the planet. For him, this is a job and nothing more.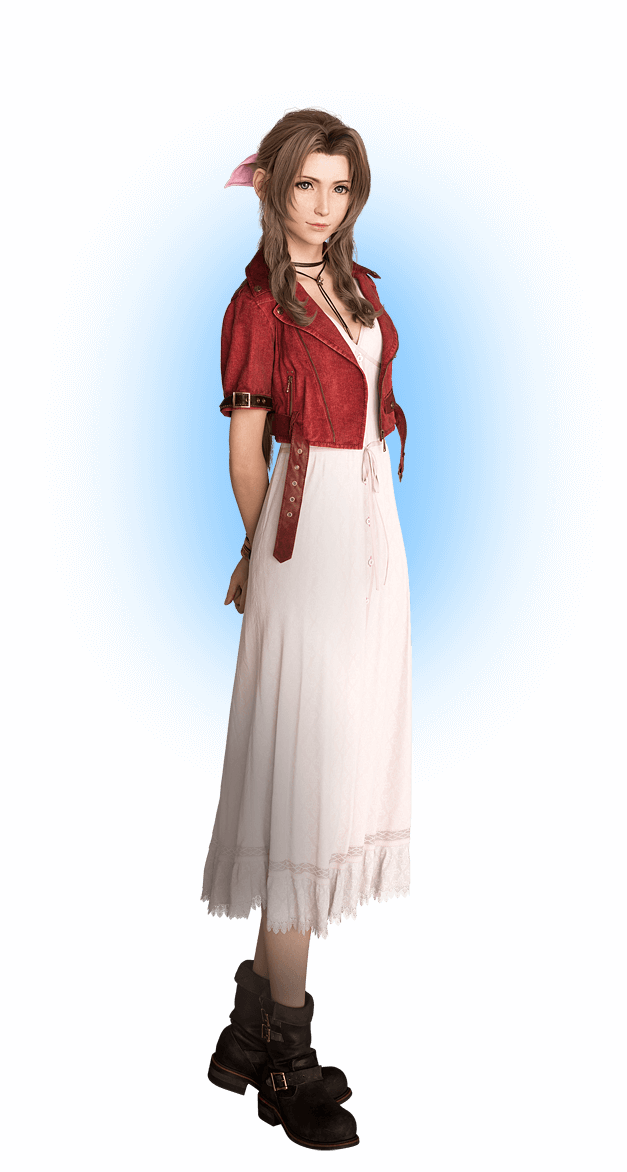 Aerith is a flower seller who lives in the Sector 5 slums, who first meets Cloud on the streets of Midgar after the bombing of Mako Reactor 1. Shinra has kept a close eye on her ever since she was a child, as she has the ability to hear the voice of the planet. She is often found tending a modest bed of flowers at an old church in Sector 5.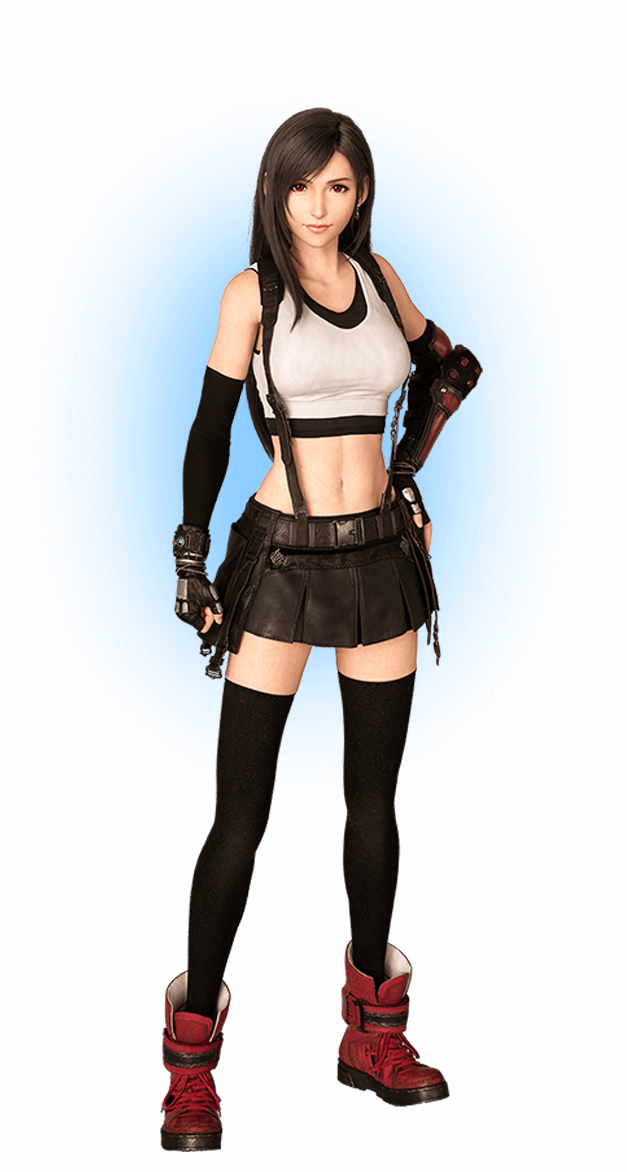 A loyal member of Avalanche─an underground organization opposed to Shinra─Tifa also runs Seventh Heaven, a popular bar in the Sector 7 slums. Although she bears a terrible grudge towards Shinra, she is not convinced that bombing mako reactors is the solution. As she struggled to reconcile her cause with her conscience, Tifa was reunited with her childhood friend, Cloud, for the first time in years...
The leader of an independent Avalanche cell in Midgar, Barret was disavowed by the old guard for his extreme methods that attracted too much attention. He subsequently came to Midgar, where he resolved to continue to pursue his vendetta against Shinra with a small but trusted group of followers. When not fighting against the corporation, he and his comrades serve in the neighborhood watch and keep the people safe─including his daughter Marlene, who he dotes on as a loving father.