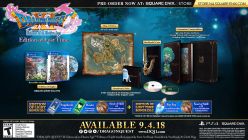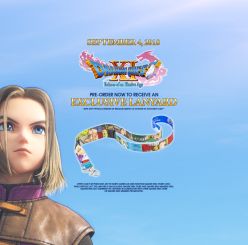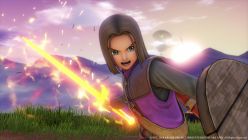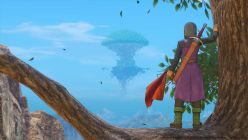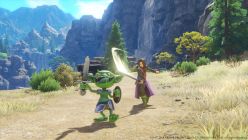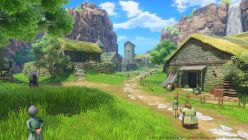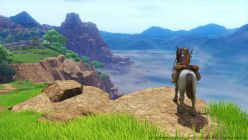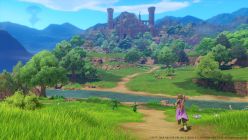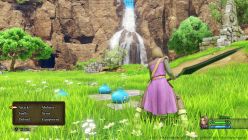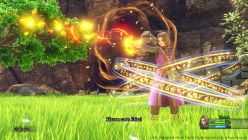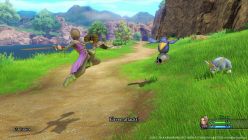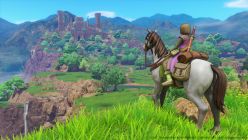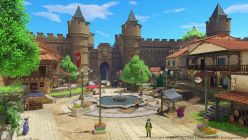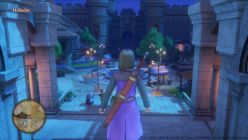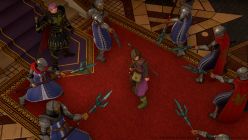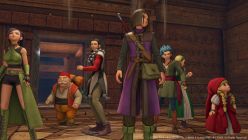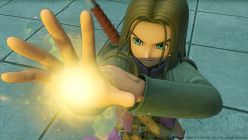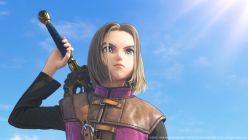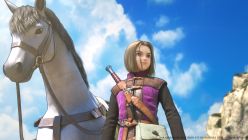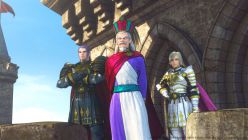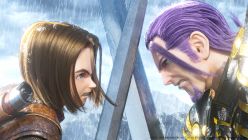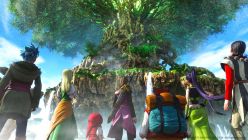 Exclusive SQUARE ENIX STORE offer!! Receive a free exclusive DRAGON QUEST® XI Lanyard for ordering any physical copy of DRAGON QUEST® XI on the SQUARE ENIX STORE!*
Celebrate the latest mainline entry to the series with the DRAGON QUEST® XI: Echoes of an Elusive Age™ Edition of Lost Time.
Available in limited quantities, this edition contains a variety of treasures to complement your adventure, including:
Companion Compendium – Large format, 128 page hardback art book with concept & production art including Akira Toriyama's early designs, as well as notes and interviews.
Symphonic Suite – 2-disc soundtrack set featuring orchestrated versions of in-game music.
Map of Erdrea – a 20"x15" cloth map.
A collectible Steelbook® case.
The "Edition of Light"* version of the game for the PlayStation®4 computer entertainment system, which features the below bonus DLC:

The Supplicant - A clairvoyant's card imbued with the power to restore MP.
The Healer - A clairvoyant's card imbued with the power to restore HP.
3 x Seeds of Skill - A nifty nut that confers an extra skill point upon anyone who eats it. Consumed upon use.

Edition of Lost Time Bonus DLC**:

Pep Pop - A fantastic fizzy drink that immediately peps up all active allies. Consumed upon use.
15 x Seeds of Skill - A nifty nut that confers an extra skill point upon anyone who eats it. Consumed upon use
* DRAGON QUEST XI: Echoes of an Elusive Age Edition of Light bundled separately from Art Book, Soundtrack, Steelbook, & Cloth Map
**Edition of Lost Time DLC Playstation®4 code will be added to your SQUARE ENIX ONLINE STORE account on launch day
A young man, about to participate in his village's coming of age ceremony, travels to a Sacred Stone alongside his childhood friend. After a series of unexpected events, this intrepid adventurer learns he is the reincarnation of a legendary hero from a forgotten age.
Release Date:
September 4th, 2018
The young hero sets forth into an unknown world on a journey to unravel the mystery of his past… but the welcome he receives is far from warm. Upon revealing his identity to the King, the hero is branded as "The Darkspawn" and hunted by a relentless army.
Fleeing from his pursuers, the hero assembles a band of endearing adventurers who believe he is actually The Luminary reborn. The hero and his newfound companions embark on a quest that will take them across continents and over vast oceans as they learn of an ominous threat facing the world.
DRAGON QUEST® XI: Echoes of an Elusive Age™ tells a captivating tale of a hunted hero and is the long-awaited role-playing game from series creator Yuji Horii and character designer Akira Toriyama. While it is the eleventh mainline entry in the critically acclaimed series, DRAGON QUEST XI is a completely standalone experience that features entirely new characters, a beautifully detailed world, finely tuned turn-based combat, and an immersive story that will appeal to longtime fans and franchise newcomers alike.  After its release in Japan, DRAGON QUEST XI won multiple gaming awards and received critical praise, including PlayStation's Platinum Prize and a perfect 40/40 score from Famitsu (an influential video game publication in Japan). DRAGON QUEST XI: Echoes of an Elusive Age is coming to North America this September.
Release Date: 
September 4th, 2018
IMPORTANT:
Products with a broken seal/sticker may not be returned unless there is a defect with the product.

Please note that you use the shipment services at your own risk. Signature Confirmation is highly recommended. Square Enix Online Store is not responsible for lost or stolen packages.

On or near release date delivery. While we try our best to schedule delivery to arrive on the release date, actual delivery date may vary depending on your location and method of shipping.

Orders received after August 20th, 2018 11:59pm PST will arrive after the release day.

Consumers are limited to 5 "Edition of Lost Time" bundle per account.
Features
Unravel an Epic Mystery in a Riveting Tale – DRAGON QUEST XI tells the tale of a hunted hero: denigrated as a demon and pursued by a malicious monarch, you must embark on a quest to unravel the mystery of your fate and save a doomed world. At the heart of the game is an immersive story with twists and turns that pull you in and keep you craving more – from the opening cutscene to the final credits!
Assemble a Colorful Cast of Loyal Companions – Accompanying the hero on his quest is an endearing band of adventurers with their own rich backstories and personalities as diverse as their designs. Once again, famed manga artist Akira Toriyama brings the characters of DRAGON QUEST to life with his delightful, one-of-a-kind style.
Explore a Beautiful, Living World – DRAGON QUEST XI brings a massive, gorgeous world to life in a style that blends stylistic cel-shading with photorealistic detail. Excitement lurks around every corner as players explore populous cities, quaint villages, magnificent castles, and dark dungeons. NPC's attend to their daily schedules, monsters change behaviors to fit their environments, and players can access new areas with the use of monstrous vehicles.
Engage in Classic Battles with a Modern Twist – DRAGON QUEST XI's turn-based battle system eases players into combat with an accessible experience that features mechanics simple enough for the novice but with enough depth to satisfy hardcore fans.
Have Some Fun & Save the World – In addition to its captivating narrative, DRAGON QUEST XI features tons of side-quests and addicting mini-games that provide enough content to keep you playing for well over 100 hours. You will face insurmountable odds and an evil force of unimaginable power… but while the stakes are high, there are many fun distractions to find if you know where to look.