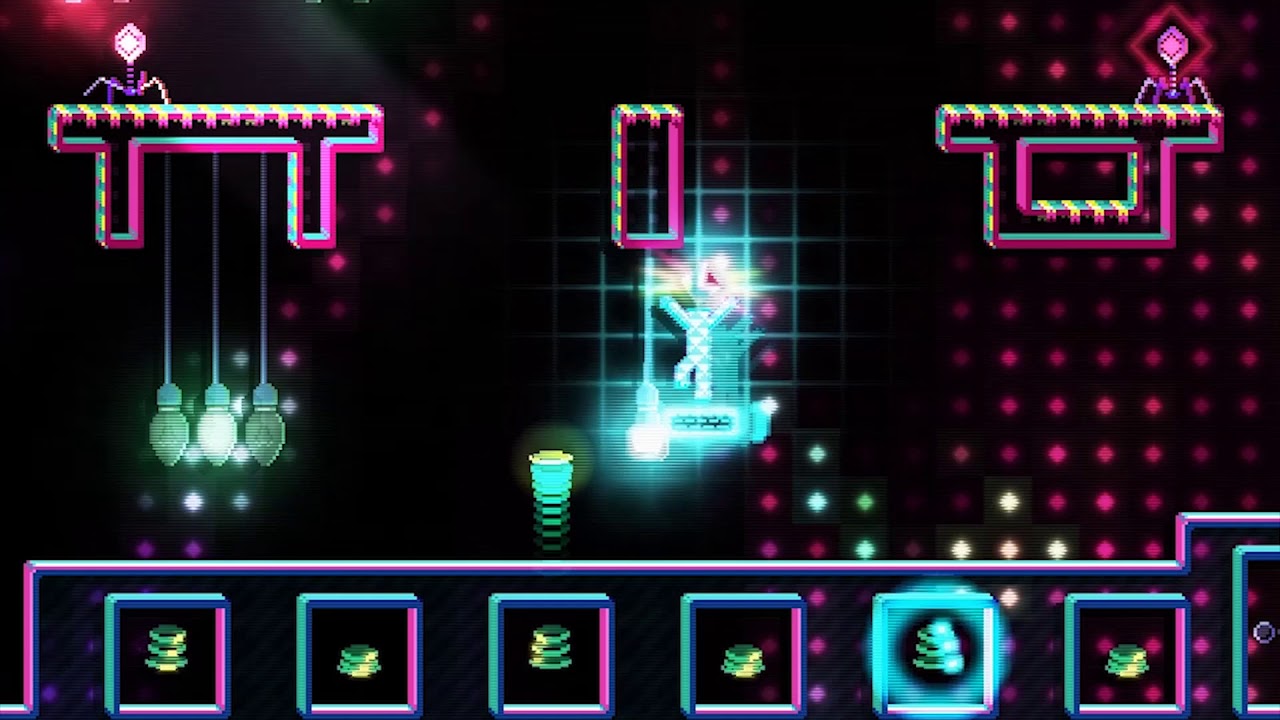 Steam account & Internet connection required to activate game.
OCTAHEDRON is a precision vertical action game about creating your own platforms.
Surf through a pulsating, underground world on platforms pulled from thin air in this challenging psychedelic action platformer that has you defying gravity to a pumping beat.
Octahedron: Collector's Edition includes the full digital soundtrack, as well as handpicked playable prototype levels that map the game's evolution through its development.Release Date: 
March 20, 2018
FEATURES
Platforms From Thin Air - Spawn platforms at your feet with the press of a button & surf on them until their energy depletes
Reach For The Sky - Scale colorful summits to a pulse-pounding beat, reach the top & escape the subterranean world of Veetragoul
Neon Powered Upgrades - Fry enemies with laser beams, crumble walls, and solve puzzles as you strive to upgrade your platform
Hand-crafted Delight - Collect shards of the Octahedron across 50 hand-crafted levels, unlock new worlds & bonus levels, and earn special medals
On A Dime - Master tight controls to pull off amazing feats of pixel-perfect platforming, as obstacles & enemies move along with the beat
Thumping Tunes - Get into the flow of a pumping, atmospheric soundtrack by Chipzel (Super Hexagon), and house & trance producers Andre Sobota and Monomirror
Soundtrack - A digital soundtrack featuring all of the thumping tunes from the game
Prototype Levels - Handpicked playable prototype levels from various stages through the game's development. These allow you to experience various visual styles, abilities, map designs and enemies that didn't quite make it into the final game.




Steam account & Internet connection required to activate game.

MINIMUM
​OS: Windows 7
Processor: Intel Celeron E1500, 2.20 GHz or AMD Athlon 64 X2 4200+, 2.20 GHz
Memory: 1GB RAM
Hard Disk Space: 1GB Hard Drive space Available
Video: NVIDIA GeForce 7900 GS, 256 MB or AMD Radeon HD 2600 XT, 256 MB
DirectX®: Version 9.0c

RECOMMENDED
OS: Windows 10
Processor: Intel Pentium G4400, 3.30 GHz or AMD Phenom II X4 940, 3.0 GHz
Memory: 2GB RAM
Hard Disk Space: 1GB Hard Drive space Available
Video: NVIDIA GeForce GT 630 or AMD Radeon HD 3870
DirectX®: Version 9.0c



t
Ascend and escape strange subterranean world Veetragoul, and experience an otherworldly psychedelic adventure. To conquer and master each of the handcrafted levels, you must get into the flow of the pumping, atmospheric soundtrack, as enemies and traps move along with the rhythm.
Discover new obstacles, adversaries and mechanics in every level, with clever gameplay that is easy to learn but difficult to master. Unlock powerful offensive abilities for your platform and fight back against Veetragoul's peculiar foes. With its intuitive controls and tight and well-developed gameplay, OCTAHEDRON is a challenging and unique action game set in a mysterious neon world.
Platform
Steam
Developer
Demimonde
Genre
ACTION, PLATFORMING, PUZZLE
SKU
72268