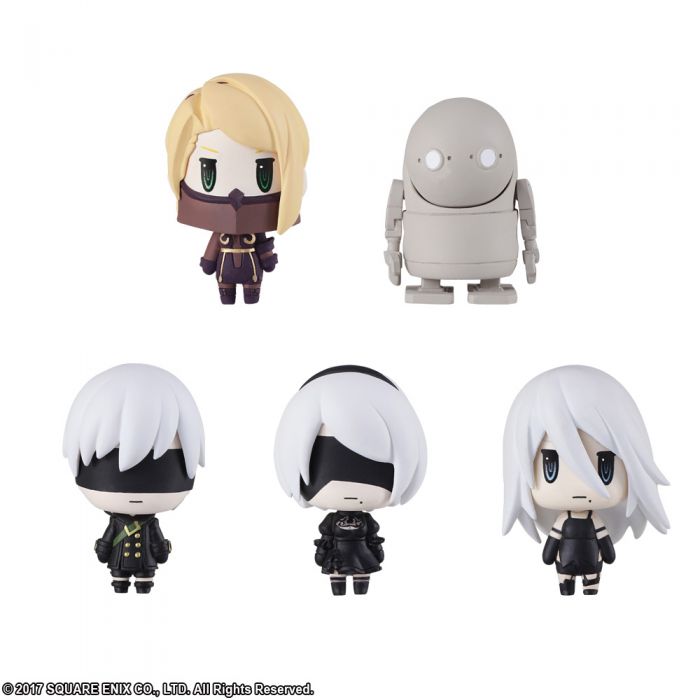 Get 25 Members Rewards
When you buy this product
The characters that give life to the unique world of NieR: Automata are now available as Trading Arts Mini!
While they are small in scale and size, they are miniaturized in a way that does not take away the personality of each of the characters. The coloration of the figures, including their eyes and hair, are also executed with particular care to match each character's individuality. A ball joint in the neck allows for movement of the head. The remarkably cute finish of the figures brings out the adorable charm of the characters!
The set includes a total of 11 possible types of figures -- including one
secret figure.
These items are now released as a set in a blind box* style with ten figurines per set. We hope you will enjoy the mystery and surprise of collecting in this whole new way!
*The figures in this box have been randomly selected. As such, this box may contain duplicate figures and may not contain a complete set of all figures.
Product Size (inches):
2B (YoRHa No.2 Type B)                               W0.95" x D0.95" x H1.42"
9S (YoRHa No.9 Type S)                                W0.91" x D0.95" x H1.42"
A2 (YoRHa Type A No.2 Short Hair)            W0.91" x D0.87" x H1.38"
A2 (YoRHa Type A No.2 Long Hair)             W0.99" x D0.87" x H1.38"
OPERATOR 21O                                             W0.87" x D0.95" x H1.42"
MACHINE LIFEFORM                                     W0.95" x D0.87" x H1.26"
Release scheduled for JULY 2018

Limit two (2) per customer.

Release date is approximate. Shipment may take longer if the parcel contains an import product and faces delays due to customs and duties. 
Also, please be aware of potential release date changes which shall be updated on the website.