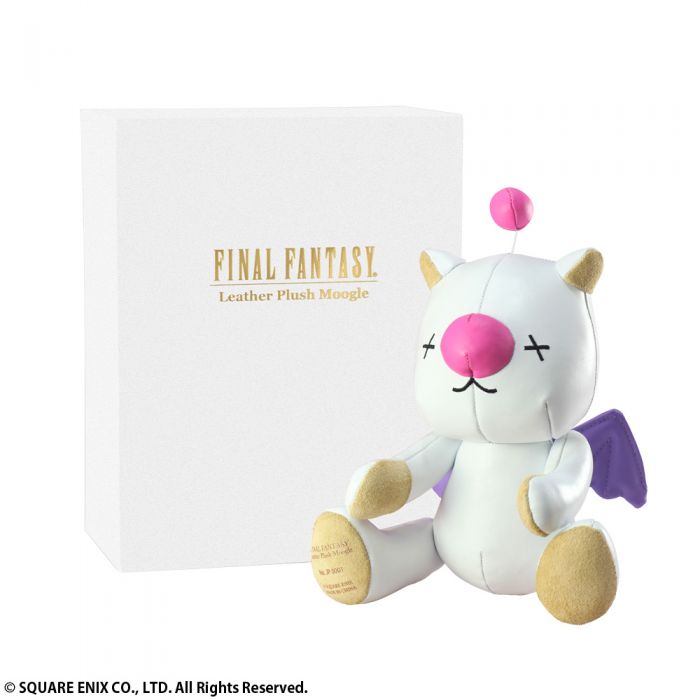 Get 50 Members Rewards
When you buy this product
In honor of FINAL FANTASY's 30th Anniversary we have created this high end collectible Leather Plush Moogle! The moogle is a beloved staple creature of the FINAL FANTASY series across many of its titles throughout its thirty year history. Made of genuine leather, this product is sure to be a must-have addition to any FINAL FANTASY fan's collection.

Limited to only 777 units in North America, this collectible plush comes packaged in a sturdy white box with gold embossed lettering. Each moogle comes not only with suede paws and ears, a perfectly squishable pink nose and pom pom, but also a unique serial number emblazoned on its foot, readily visible when displayed in a seated position. However, as this plush has hinges at the joints in its arms and legs, the collector can display it in a number of poses.

Quantities are limited, so be sure to place your order today!
Product Size: W7" X D4.7" X H9.5"
Material: 100% Real Leather
Package: Embossed Box
Release: April 2018

Release date is approximate. Shipment may take longer if the parcel contains an import product and faces delays due to customs and duties. 
Also, please be aware of potential release date changes which shall be updated on the website.