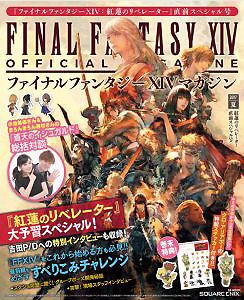 Get 5 Members Rewards
When you buy this product
Presenting the official starter guide for FINAL FANTASY XIV: Stormblood
Also includes special Wondrous Tails and minion stickers!

WARNING: The magazine is a direct import of the Japanese version, and will be in Japanese only.
Content Overview:
?Stormblood Primer
Featuring a summary of key information related to FINAL FANTASY XIV's second expansion pack!

? Prepare to join the Resistance with the Stormblood Starter Guide
Get hints and tips for how to best prepare for the resistance in Stormblood. Great for first-time FFXIV players, and those who want to level up additional jobs!

?Teach me, Yoshi-P!
We ask Yoshida about game mechanics, various content, lore, and game design questions! Learn more about the details of the game directly from Producer/Director Naoki Yoshida.

?Glamour Reference
You have a favorite outfit, but can't find the gear to go with it!
We'll show you some nifty items (head, hand, legs, and feet gear) that work with your outfit!

?Bonus
Turn your personal journal into a real life version Khloe's journal! Included with the magazine is a set of Wondrous Tails and minions stickers!

Release Date: April 18, 2017

*Limit one (1) per customer.
Platform
Books
SKU
4757553994