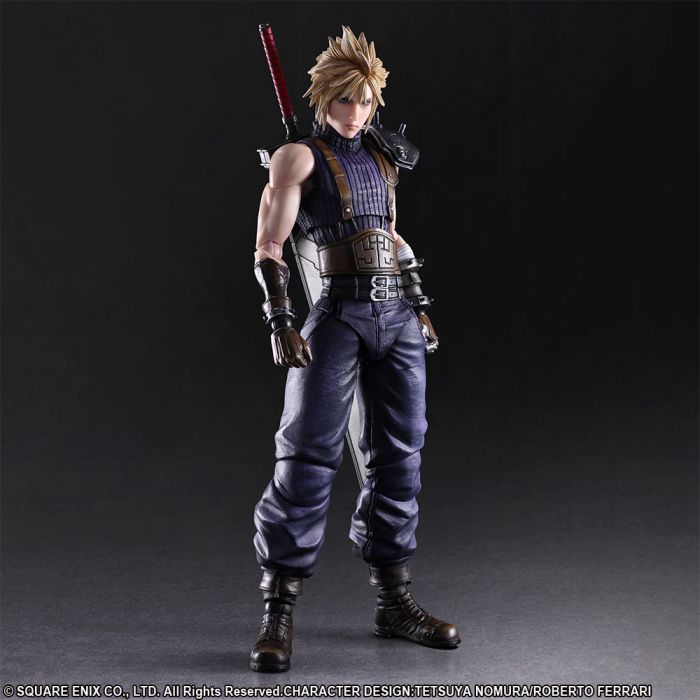 Get 60 Members Rewards
When you buy this product
FINAL FANTASY VII REMAKE reimagines one of the most popular titles in the FINAL FANTASY series. Cloud, the hero of FINAL FANTASY VII REMAKE, makes his appearance to the Play Arts KAI line in this new Limited Color Version!
The details of the materials and embellishments of his outfit, such as the textures on his belt and armor, have been meticulously reproduced. His delicate features have been molded to showcase a melancholic expression uniquely suited to Cloud, paying special attention to the paint application around his eyes. These details come together to make Play Arts KAI Cloud a sight to behold!
However, the quality of this figure does not end with its superior visual quality. The joints have a full range of motion, allowing Cloud to be displayed in a wide array of action poses.
This limited edition of Cloud incorporates coloring on his clothing and the hilt of the Buster Sword based on his original character design in the classic version of Final Fantasy VII. The visual appeal of this figure is in the sense of nostalgia and history behind our color selection, inspired by this beloved title from the Final Fantasy franchise.
This figure will make his debut at San Diego Comic-Con 2017! If you simply must have him before anyone else, then please visit us at booth #3829 at San Diego Comic-Con.
Figure includes display stand and interchangeable hand parts.
Figure Size: W 3.6" x D 1.65" x H 10.75" tall (Buster Sword: full length 9.6", blade length 7.36", thickness 0.12")
[PLEASE NOTE]
This SDCC-Debuting Square Enix Official Shop Exclusive pre-ordered at the SQUARE ENIX Online Store will be shipped to your provided address, and are not available for onsite pick-up at SDCC 2017.
Products will not be shipped until end of September 2017.
Limit two (2) per customer.
Release Date: October 2017

Release date is approximate. Shipment may take longer if the parcel contains an import product and faces delays due to customs and duties. Also, please be aware of potential release date changes which shall be announced on the website.