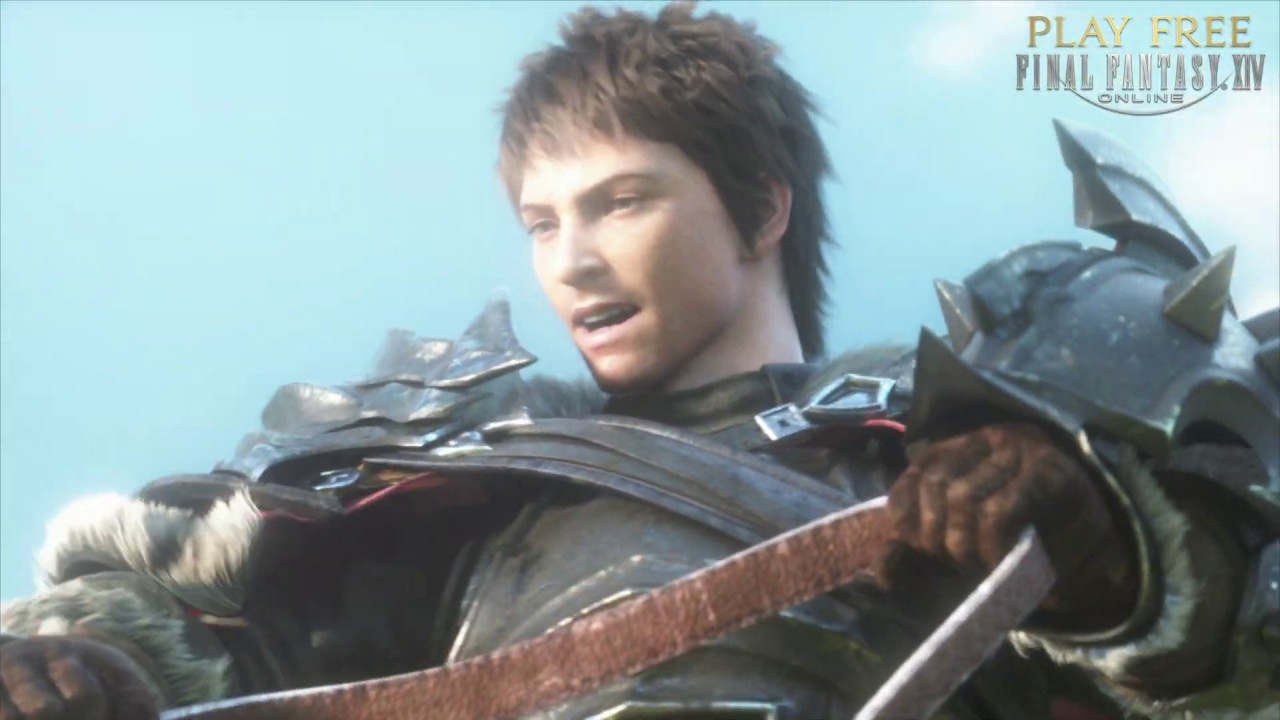 The starter edition is perfect for newcomers as it includes the award-winning FINAL FANTASY XIV: A Realm Reborn experience and lets you begin your adventure as the Warrior of Light all the way through level 50.
 Join others from around the world and start your own FINAL FANTASY adventure today!

Please note: The 30-day free play period included with purchase can only be applied once to each platform on a single service account. Moreover, this 30-day free play period is not applicable to platforms on which a license has already been registered.


LOGO ILLUSTRATION: © 2010, 2014, 2016 YOSHITAKA AMANO
An epic FINAL FANTASY story featuring a vibrant cast of characters, hundreds of quests, and exciting locales to explore
Celebrate the history of FINAL FANTASY through familiar monsters, bosses, music, and characters
Tackle challenging dungeons and raids, or battle fellow players in unique forms of PvP
Experience all of the jobs/classes on a single character using the flexible Armoury System
Make your mark on the world by purchasing and decorating your very own estate – even build your own Airship!
Adventure with friends using cross-platform play between PC, PlayStation 4, and Mac
MINIMUM SYSTEM REQUIREMENTS
OS: Windows® 8.1 64 bit, Windows® 10 64 bit
CPU: Intel® Core™i5 2.4GHz or higher
Memory: 4GB or higher
Available space on hard disk/SSD: 60GB or more
Graphics Card: NVIDIA® Geforce® GTX750 or higher or AMD Radeon™ R7 260X or higher
Screen Resolution: 1280x720
Internet: Broadband Internet connection
Sound Card: DirectSound® sound card (DirectX® 9.0c or higher)
DirectX®: DirectX® 9.0c and DirectX® 11
RECOMMENDED SYSTEM REQUIREMENTS
OS: Windows® 8.1 64 bit, Windows® 10 64 bit
CPU: Intel® Core™i7 3GHz or higher
Memory: 8GB or higher
Available space on hard disk/SSD: 60GB or more
Graphics Card:NVIDIA® Geforce® GTX970 or higher or AMD Radeon™ RX 480 or higher
Screen Resolution: 1920x1080
Internet: Broadband Internet connection
Sound Card: DirectSound® sound card (DirectX® 9.0c or higher)
DirectX®: DirectX® 9.0c and DirectX® 11
Notice:
If you are using a router, please set up your ports so that the below packets can pass through. Ports that may be used: TCP: 80, 443, 54992 - 54994, 55006 - 55007, 55021 - 55040
FINAL FANTASY XIV Installation Instructions
1. Download the FINAL FANTASY XIV PC Digital Download file from the link provided below.
2. Double click the "
ffxivsetup.exe
" file and select the appropriate region and language settings.
Please note that this will also set the in-game language, but you can change this setting at any time within the FINAL FANTASY XIV launcher program.
Ensure that you have at least 60 GB of free space available on your hard disk drive.
A User Account Control prompt may be displayed for Windows® 7 users. Select "Yes" to proceed with the installation.
Please launch the installer as a user with administrator rights. Windows® 7 users may be prompted for an administrator password.
3. Follow the on-screen instructions to install the FINAL FANTASY XIV launcher onto your hard drive.
4. After you have successfully installed the launcher, run the program to check for any updates and proceed to register FINAL FANTASY XIV.
5. Follow the onscreen instructions and carefully read through and accept the FINAL FANTASY XIV Software License Agreement, Square Enix Account Agreement, and the FINAL FANTASY XIV User Agreement.
Please note that a Square Enix Account is required to play FINAL FANTASY XIV. If you do not possess a Square Enix Account, you will be asked to register one at this time. If you already have a Square Enix Account, you do not need to register a separate one and may proceed to sign in with your current Square Enix Account. To create a new Square Enix Account, you may alternatively access the following page using your internet browser. http://www.square-enix.com/na/account/
6. When requested, please enter the product registration code to complete the initial registration process.
7. To begin playing, enter your Square Enix Account username and password and select Log In.
8. After logging in, the launcher will check for the latest game data. If necessary, the latest files will be downloaded from the network, and the game will be updated to the most recent version. This process is automatic, and can take anywhere from several minutes to several hours to complete. The estimated time remaining will be displayed under the
download progress bar.
9. Once the game has been updated, the Play button will be displayed. Click this button to start the game.

Hydaelyn─a vibrant planet blessed by the Light of the Crystal.
Amid azure seas, encompassing the westernmost of the Three Great Continents, there lies a realm embraced by gods and forged by heroes. Her name...Eorzea.
It is here that your tale unfolds. Beckoned by the Mothercrystal─the source of all life─you must embark upon a quest to deliver the land from an eternity of Darkness.
Since time immemorial, this verdant planet has seen the births of lives uncounted.
But the land now bears grievous scars, and threatens to slip into a gaping maw of death and darkness.
You who would bring the light of hope to Hydaelyn...
You who would heed the whisperings of the aetheryte and take up the mantle of "adventurer."
This is your journey—a new tale to echo down the ages.
Comprised of Aldenard, the westernmost of the Three Great Continents, and its surrounding islands, the realm of Eorzea has been the cradle of several unique civilizations throughout history.
Towering mountains dominate the north, their peaks forever lashed with icy winds; to the south, a bleak expanse of unforgiving desert holds sway.
Yet these inhospitable lands hold irresistible lure for man and monster alike, for wide and deep flow the currents of aether, and rich are the veins of power-infused crystal.
In this harsh though vibrant region, the people of Eorzea have carved out their histories—a cycle of prosperous Astral and disastrous Umbral eras.
The First Umbral Era brought an end to the age of the gods, and there have been six such eras of calamity since the First Astral Era ushered in the age of man.
Each of the Umbral catastrophes has, in turn, borne the characteristics of one of the six elements. With all the elements now represented, it was believed the current Astral era would last into eternity.
But in the seventh verse of the Divine Chronicles, Mezaya Thousand Eyes prophesized a less fortunate fate. The "senary sun," or Sixth Astral Era, would indeed end, and the "septenary moon," or Seventh Umbral Era, would cast its shadow upon the land.
The life of an adventurer is the pursuit of fortune and the pursuit of fame. It is the devotion of oneself to seeking out danger and glory wherever they might lie. It is an endless quest taken up only by the most intrepid and dauntless of souls.
The term came into popular use among the people of Eorzea little more than a decade ago. Left idle by the onset of the Age of Calm, a leading mercenary officer gathered to his side a number of trusted companions, and together they formed a guild dedicated to the common cause of aiding the realm at large.
Outside the modest station of their humble beginnings, a simple sign hung for all to see―Adventurers' Guild.
The Adventurers' Guild has since spread, and can now be found in each of the
realm's great nations. It is here that Eorzeans come with their myriad pleas and requests, and here that adventurers heed the call, whether it be the slaying of some foul beast plaguing the countryside, or the crafting of fine wares demanding a master's touch.
What greatness lies in store for you, adventurer?