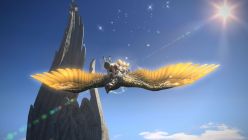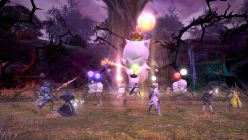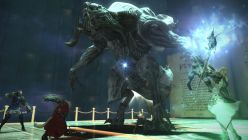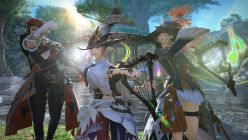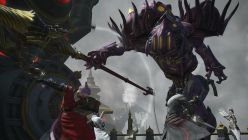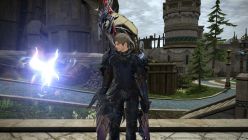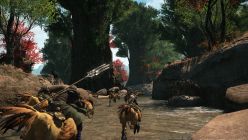 Please note this is the Mac version of the game.  If you are playing on PC please download the PC version.
Take part in an epic and ever-changing FINAL FANTASY as you adventure and explore with friends from around the world. The complete edition is perfect for newcomers as it includes the award-winning FINAL FANTASY XIV: A Realm Reborn and the Heavensward and Stormblood expansion packs! Join others from around the world and start your own FINAL FANTASY adventure today!
Please note: The 30-day free play period included with purchase can only be applied once to each platform on a single service account. Moreover, this 30-day free play period is not applicable to platforms on which a license has already been registered.
IMPORTANT: We have confirmed an issue in which action icons fail to display on Macs using Radeon Pro Vega graphics cards. Because this affects gameplay, we advise caution if attempting to use this hardware to play FINAL FANTASY XIV.

LOGO ILLUSTRATION: © 2010, 2014, 2016 YOSHITAKA AMANO
An epic FINAL FANTASY story featuring a vibrant cast of characters, hundreds of quests, and exciting locales to explore
Celebrate the history of FINAL FANTASY through familiar monsters, bosses, music, and characters
Tackle challenging dungeons and raids, or battle fellow players in unique forms of PvP
Experience all of the jobs/classes on a single character using the flexible Armoury System
Make your mark on the world by purchasing and decorating your very own estate – even build your own Airship!
Adventure with friends using cross-platform play between PC, PlayStation 4, and Mac
Regarding the End of 32-bit Support for Mac®
Square Enix support for the Mac 32-bit version of FINAL FANTASY XIV will end with the start of early access for FINAL FANTASY XIV: Shadowbringers, currently scheduled for late-June 2019.  
FINAL FANTASY XIV may still be accessible through the 32-bit application even after support has ended, and Square Enix may respond to requests for technical support for the 32-bit application, but such accessibility and support may be limited and is not guaranteed.
Square Enix plans to support a new, 64-bit version of the FINAL FANTASY XIV application with the start of early access for FINAL FANTASY XIV: Shadowbringers.  Square Enix is scheduled to switch to the 64-bit version of FINAL FANTASY XIV for Mac on June 6, 2019. In order to facilitate a smooth transition, we hope to provide an early release of the 64-bit application in late-May 2019.
Below are the minimum system requirements we believe will be needed for the new Mac 64-bit application:
Minimum System Requirements
OS
macOS Mojave 10.14.2
Memory
4GB
Free Disk Space
60GB
Graphics
AMD Radeon™ R9 M295X or higher
Recommended Screen Resolution
1600x900
Internet
Broadband Internet connection
Communications port
If you are using a router, please set up your ports so that the below packets can pass through.
[Ports that may be used]
TCP:80, 443, 54992 - 54994, 55006 - 55007, 55021 - 55040
Since the 64-bit application is still in active development, Square Enix cannot guarantee specific release dates or minimum system requirements at this time. We will provide more detailed and finalized information about downloading, installation, and exporting configuration settings for the new 64-bit application at a later date.
Thank you for your understanding and continued support.
How to register FINAL FANTASY XIV Online on Mac
For new customers who purchased the "FINAL FANTASY XIV Online Starter Edition" or the "FINAL FANTASY XIV Online Complete Edition", download the FINAL FANTASY XIV Online game client from the link below and follow the instructions listed below:
http://gdl.square-enix.com/ffxiv/inst/FINAL_FANTASY_XIV_ONLINE.dmg
For existing customers who purchased the "FINAL FANTASY XIV: Stormblood" expansion pack, log in to your existing FINAL FANTASY XIV service account from the official Mog Station page from the link below and enter the 20 digit Registration Code for the Stormblood expansion within the "Your Account" menu:
http://sqex.to/Msp
Instructions for New Customers:
Double click the "FINAL_FANTASY_XIV_ONLINE.dmg" setup file, then drag & drop the "FINAL FANTASY XIV" setup icon into the "Applications" folder to begin installation of the game launcher.
Once installation completes for the game launcher, the "FINAL FANTASY XIV" game icon will be created on the desktop.
Double click the game icon or run the application within the "Applications" folder and the game launcher will check for any updates.
After you have successfully updated the launcher, follow the onscreen instructions and carefully read through the User Agreements in order to proceed registering FINAL FANTASY XIV Online.
Please note that a Square Enix Account is required to play FINAL FANTASY XIV Online. If you do not possess a Square Enix Account, you will be asked to register one at this time.
During the registration process, enter the 20 digit Registration Code you received with your purchase to complete the initial registration process when requested.
To begin playing, enter your Square Enix Account username and password and select "Log In".
After logging in, the launcher will check for the latest game data. If necessary, the latest files will be downloaded from the network, and the game will be updated to the most recent version. This process is automatic, and can take anywhere from several minutes to several hours to complete. The estimated time remaining will be displayed under the download progress bar.
Once the game has been updated, the "Play" button will be displayed. Click this button to start the game.