Get 30 Members Rewards
When you buy this product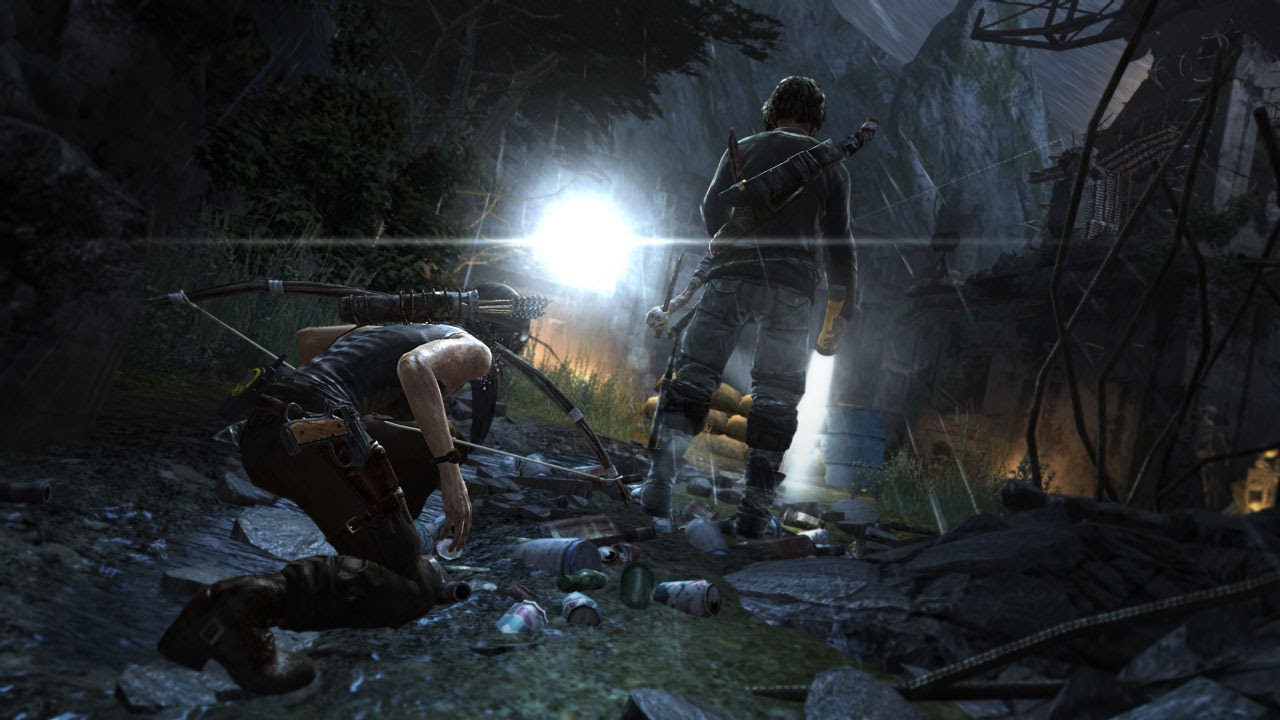 Tomb Raider is a critically acclaimed action adventure that explores the intense and gritty origin story of Lara Croft and her ascent from a young woman to a hardened survivor. Armed only with raw instincts and the ability to push beyond the limits of human endurance, Lara must fight to unravel the dark history of a forgotten island to escape its relentless hold.

The Game of the Year edition includes the Tomb of the Lost Adventurer, 6 single player outfits for Lara, 6 multiplayer weapons, 8 multiplayer maps, and 4 characters.
A Turning Point: Experience Lara Crofts intense origin story from a young woman to a hardened survivor.
An All-New Raiding Experience: Explore a mysterious island filled with environmental puzzles, visceral combat, and tombs to discover.
Fight to Live: Salvage resources, gain experience, and upgrade Laras weapons and tools to survive the islands hostile inhabitants.
Survive as a Team: Play a variety of multiplayer modes as Laras Shipmates or Yamatais Scavengers.
Tomb Raider Game of the Year Edition includes the following DLC packs:
Scavenger Scout
Scavenger Executioner
Scavenger Bandit
Fisherman
Silverballer
Agency SPS 12
HX AP-15
JAGD P22G
M590 12ga
STG 58 Elite
Hunter Skin
Aviatrix Skin
Guerilla Skin
Demolition Skin
Sure-shot Skin
Mountaineer Skin
Shanty Town
Caves and Cliffs Multiplayer Map Pack
1939 Multiplayer Map Pack
Shipwrecked Multiplayer Map Pack
Tomb of the Lost Adventurer
MINIMUMOS:
Windows XP Service Pack 3, Windows Vista,7,8 (32bit/64bit)
Processor:
Dual core CPU: AMD Athlon64 X2 2.1 Ghz (4050 ), Intel Core2 Duo 1.86 Ghz (E6300)
Memory:
1GB Memory (2GB on Vista)
Graphics:
DirectX 9 graphics card with 512Mb Video RAM: AMD Radeon HD 2600 XT, nVidia 8600
RECOMMENDEDOS:
Windows Vista, Windows 7 or Windows 8
Processor:
Quad core CPU: AMD Phenom II X2 565, Intel Core i5-750
Memory:
4GB Memory
Graphics: 
DirectX 11 graphics card with 1GB Video RAM: AMD Radeon HD 4870, nVidia GTX 480
PC ENHANCEMENTSGeneral Features
Full integration with Steamworks to offer cloud storage for saves, multiplayer matchmaking, achievements, as well as automatic updates and new content.
Support for Steam Big Picture Mode.
Configurable mouse and keyboard support.
Gamepad support.
High-end Graphics
Very high resolution textures with up to 16x the amount of data
Detail Tessellation to enhance the detail on many surfaces in the game
Higher quality shadows
High quality bokeh depth of field with near-blur
Tessellation algorithms used to smooth out geometry
Improved cloth, SSAO, quality wetness effects, and post-filter effects.
LOD quality is adjustable for better quality on higher-end machines.
Low-End Graphics
Crystal cares about TR fans being able to run on older systems, unlike many other games they still support Windows XP.
A lot of scalability options to suit a range of machines.
Platform
PC Download
Developer
CRYSTAL DYNAMICS
Genre
Action, Adventure
Languages
English, French, German, Italian, Korean
SKU
203160-s